ep cares
In 2016, we established the Three 3s, an initiative to give back to our communities by donating profit, project experience and time. We endeavor to leverage our growth as a small business to benefit community and environment, but we also want to empower our employees to be part of deeply meaningful experiences that inspire them, outside of work.
EP Gives Back in 3s
Our THREE 3's philanthropic pledge can be described as follows: 3% of PROFIT is donated to charity; 3% of PTO TIME is dedicated to volunteering efforts; and 3% of PROJECTS must be pro-bono work for institutions promoting community and sustainability.
Take a look at how we focused our charity work in 2022: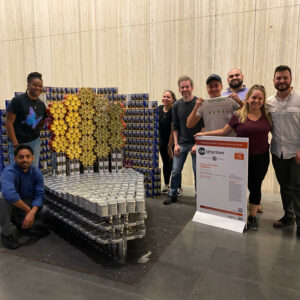 3% of Profit
EP Engineering was delighted to support and recognize these organizations throughout 2022:
Mayor's Fund to Advance NYC | Coral Restoration| Girl Scouts | National Marine Mammals | This is About Humanity | Sane Energy | Ocean Conservancy | Earth Justice | Animal Haven | Free Arts NYC | Project Chimps | Circle Camps | City Harvest | Gentle Giants | Project Sunshine | Alight | Farm Sanctuary | Sierra Club | The Nature Conservancy | Humane Society | Sane Energy | Building Homes for Heroes | Virunga Fund | Westhab | Kiva | Beagle Freedom Project | EWG Action Fund | Wounded Warrior Project | Architects Regatta | The Jericho Project | The Bowery Mission | World Vision – Clean Water
Each year we also allow all employees to pick an organization of their choose which the company makes a donation to. This years 2022 employee picks included:
In addition to the 35+ charity partners that EP Engineering supported in the last year, we also took note of what was going on both locally and nationally. Donations were made towards several relief efforts for the war in Ukraine and towards Hurricane Ian relief in Puerto Rico. These organizations included:
Alight
Global Empowerment Mission
International Medical Corps
International Relief Teams
USA for UNHCR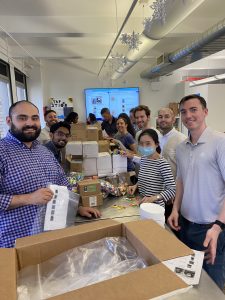 3% of Time
EP was thrilled to continue with in-person activities this past year and make it a priority to give back to the community.
Animal Haven NYC: The EP team spent the afternoon at the shelter located in downtown Manhattan. The shelter put EP to work assisting the shelter workers with all the tasks needed to care of the residents. The team assisted with walking dogs, feeding the cars and cleaning kennels and even giving a few puppies a much needed bath. It was certainly a playful way to spend an afternoon!
Free Arts NYC: EP headed to their midtown studio for an afternoon to assist the staff with packing party kits. These kits were then distributed for these virtual art parties. The kids in attendance ranged from ages 4 – 12 years old. The art kits included tons of art supplies including modeling clay, markers, stickers, construction paper and even stencils. These art kits allow for creative freedom and certainly much needed fun for the kids attending the parties. Our team certainly enjoyed themselves with packing the kits and made a goal of packing over 200 kits. We exceeded our goal by packing 250 kits, which certainly made it a successful volunteering event!
Breaking Ground: This year we ran our first in office clothing drive in our with Breaking Ground. Over the course of 2 months, we collected adult sized winter items such as coats, boats, scarfs, and hats. We even received some donations from other tenants in our office building. At the end of the drive, we donated 3 large boxes of clothing items which will be distributed to residents with the organization ahead of the winter season.
The Bowery Mission : EP visited the Bowery Mission for the 5th straight year in a row.  This time we assisted with the serving of lunch. EP makes this annual commitment right before the holidays to help ensure hungry NYers feel some holiday cheer and receive a warm, good meal.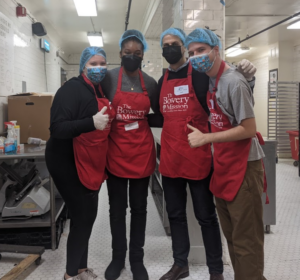 3% of Fee
We continued work with our pro bono clients this past year, which include:
Jewish Board of Family and Children's Services
Irvington Energy Audit
Mill Neck School for the Deaf
Project Hospitality
As our company continues to grow, so too will our goals. We hope to give back even more in the coming years with new partnerships and opportunities.