In 2009, the Depart of Buildings passed Local Law 84, which required that all buildings over 50,000 square feet and groups of buildings on the same tax lot that together exceed 100,000 gross square feet file a report which documents energy and water usage of the facility (known as benchmarking).  The DOB has released a new local law that now amends this requirement.  Under the new law, the square footage of single buildings requiring benchmarking has been reduced to 25,000 square feet, to include mid-sized buildings. Owners of these mid-sized buildings must now benchmark their building for the first time by May 1, 2018 and each year thereafter.  Additionally, the following exclusions have been added:
Any building owned by the city that participates in the tenant interim lease apartment purchase program.
Real property, not more than three stories, consisting of a series of attached, detached or semi-detached dwellings, for which ownership and the responsibility for maintenance of the HVAC systems and hot water heating systems is held by each individual dwelling unit owner, and with no HVAC system or hot water heating system in the series serving more than two dwelling units, as certified by a registered design professional to the department.
Failure to meet the benchmarking deadline will result in the following quarterly penalties (maximum of $2,000 fined per year).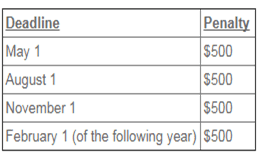 For your reference, the full body of Local Law 133/16 can be accessed here.
Contact us today to discuss your Local Law 133 requirements and to comply with the benchmarking requirements by the May 1st, 2018 deadline.