The Department of Buildings requires that specified service equipment be filed, inspected, and registered prior to operation. This registration is in the form of a Certificate of Compliance (previously know as "Equipment Use Permit"). Operating equipment without a Certificate of Compliance, or without copies of the COC located on site, will result in the issuance of violations and fines by the Department of Buildings or the FDNY.
COC vs. EUP
Special Inspections

All inspections must be performed by a registered Special Inspection Agency (SIA).
Previously, DOB inspections and registered design professionals performed inspections for EUPs.

DOB Now

All filings are done through DOB NOW, the department's online portal.
Certificates of Compliance are issued through DOB NOW.
All equipment is now listed on COC. Previously, separate EUP cards were issued for each piece of equipment.

When is a Certificate of Compliance Required?
Per NYC Administrative Code §28-116.4.1:
"The following types of service equipment shall not be operated until the department issues a certificate of compliance after submission of a satisfactory report of inspection and testing of such equipment in accordance with this code and all required submittal documents:
Air-conditioning and ventilation systems
Elevators, escalators, moving walkways and dumbwaiters
Fuel burning and fuel-oil storage equipment
Refrigeration systems
Heating systems
Boilers
Exception: A certificate of compliance shall not be required in connection with work specifically exempted from permit requirements in accordance with this code or department rules."
Per RCNY 101-14 A mechanical filing is not required for: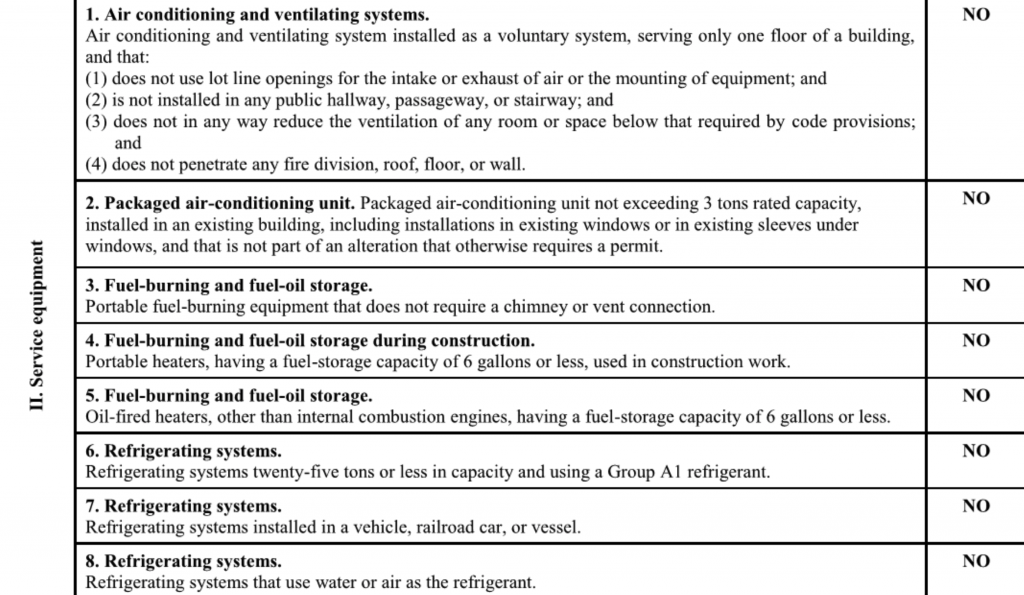 Source: https://www1.nyc.gov/assets/buildings/rules/1_RCNY_101-14.pdf
Therefore, only a packaged unit (under 3 tons) that fits in a window or wall sleeve, is exempt from the EUP requirement. Any split system, even if it is under 3 tons, will almost always need an EUP, as refrigerant piping will likely penetrate a fire division, wall, or roof.
How is a Certificate of Compliance Obtained?
All referenced service equipment must be inspected and certified by a Special Inspection Agency (SIA) performing inspections in accordance with BC 1704.16 (Mechanical Systems) and BC 1704.1.2 (Responsibilities of the SIA).
A TR1 Form identifying responsibility for the required special inspection and a PW4 Application for Certificate of Compliance for Equipment Form (signed and sealed) must be submitted at permitting
After inspection, the Special Inspector shall submit to the Certificate of Occupancy Unit a completed Certificate of Compliance card, and the applicable certified TR1 Form. If the equipment is properly certified, the Department will issue an approved. Certificate of Compliance card. The approved Certificate of Compliance must be placed on or adjacent to the service equipment.
Additional Resources
NYCAC Article 116 – Inspections and Sign-off of Completed Work:
https://nycadmincode.readthedocs.io/t28/c01/art116/#:~:text=Section%2028-116.4,-Section%2028-116.4
1 RCNY §101-06 Special inspectors and special inspection agencies:
https://www1.nyc.gov/assets/buildings/rules/1_RCNY_101-06.pdf
1 RCNY §101-14 Categories of work that may or may not require a permit:
https://www1.nyc.gov/assets/buildings/rules/1_RCNY_101-14.pdf
2014 NYC Building Code Chapter 17: Structural Tests and Special Inspections
https://www1.nyc.gov/assets/buildings/apps/pdf_viewer/viewer.html?file=2014CC_BC_Chapter_17_Structural_Tests_and_Special_Inspections.pdf&section=conscode_2014